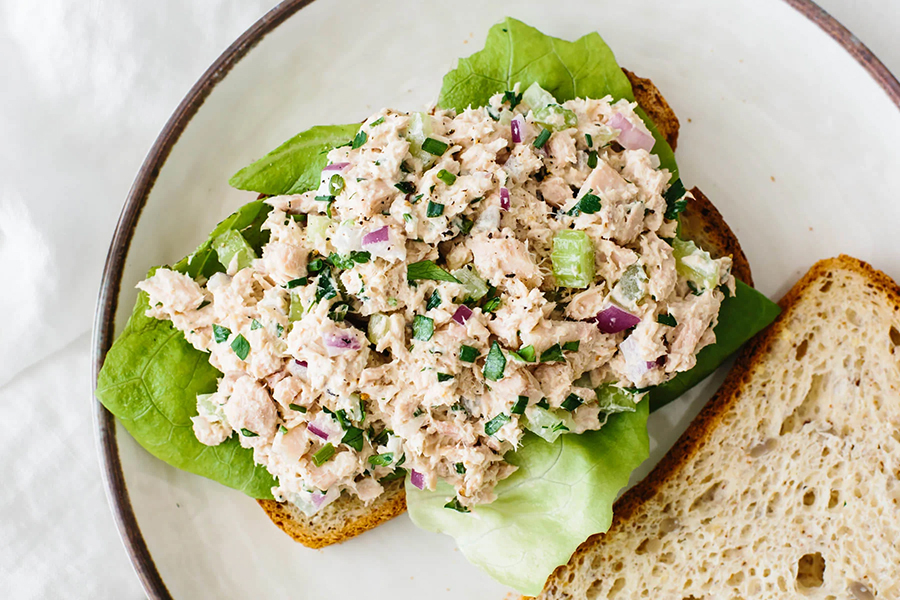 While this recipe is great on its own, there's so many creative ways to serve it.
Sandwich: Make it into a sandwich along with a layer of lettuce and tomatoes.
Wrap: Turn it into a wrap.
Lettuce Wrap: Use butter lettuce leaves for a lighter, low-carb option.
Stuffed Avocado or Tomato: Stuff it into avocado or tomato halves.
Dip: Serve it with crackers or chips.
Ingredients
2 (5-ounce) cans tuna
1/4 cup mayonnaise
1 stalk of celery, diced
2 tablespoons red onion, diced
1-2 tablespoons chopped parsley, chives and/or other herbs
1/2 tablespoons Dijon mustard
salt and pepper, to taste
Preparation
Drain the liquid from the tuna cans. Then, add the tuna, mayonnaise, diced celery, diced red onion, herbs, Dijon mustard, salt and pepper to a mixing bowl.
Stir all of the ingredients together until well combined.
Enjoy the tuna salad plain out of a bowl, wrapped up in lettuce, or in a sandwich.