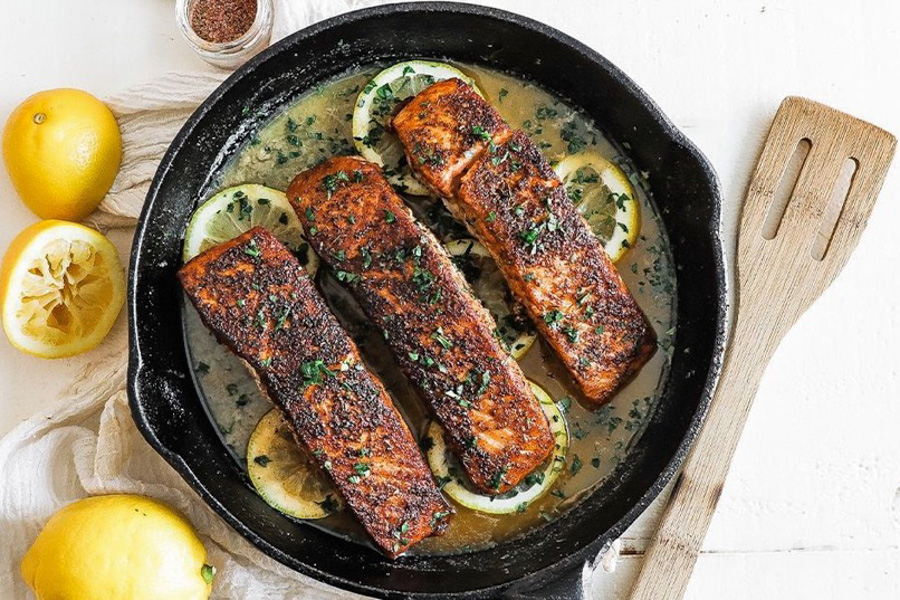 Ingredients
2 teaspoons sea salt
1 teaspoon onion granules
1 teaspoon garlic granules
1 teaspoon dry oregano
1 teaspoon dry thyme
2 teaspoons paprika
½ teaspoon ground white pepper
½ teaspoon cayenne pepper
4 tablespoons oil
3 8- ounce fresh salmon fillets
Preparation
In a small bowl mix together the salt, onion granules, garlic granules, oregano, thyme, paprika, white pepper, and cayenne pepper until combined. Set aside.
Next, add 3 tablespoons of olive oil to a large plate and mix in 2 tablespoons of the blackened seasoning using a fork or a whisk until completely combined.
Add the salmon fillets to the mixture and coat it thoroughly on all sides. Set aside.
Add the 1 tablespoon of oil to a large cast-iron skillet over medium heat until it begins to lightly smoke.
Place the blackened salmon fillets into the pan, turn the heat down to medium-low, and cook for 3-4 minutes per side or until well browned and the desired internal temperature is achieved.
Remove the salmon from the pan and make the optional butter sauce and serve with the salmon.
Notes
You can also grill the salmon instead of cooking in a pan over medium to high heat for 3-4 minutes per side.
Source: Billy Parisi – Blacked Salmon