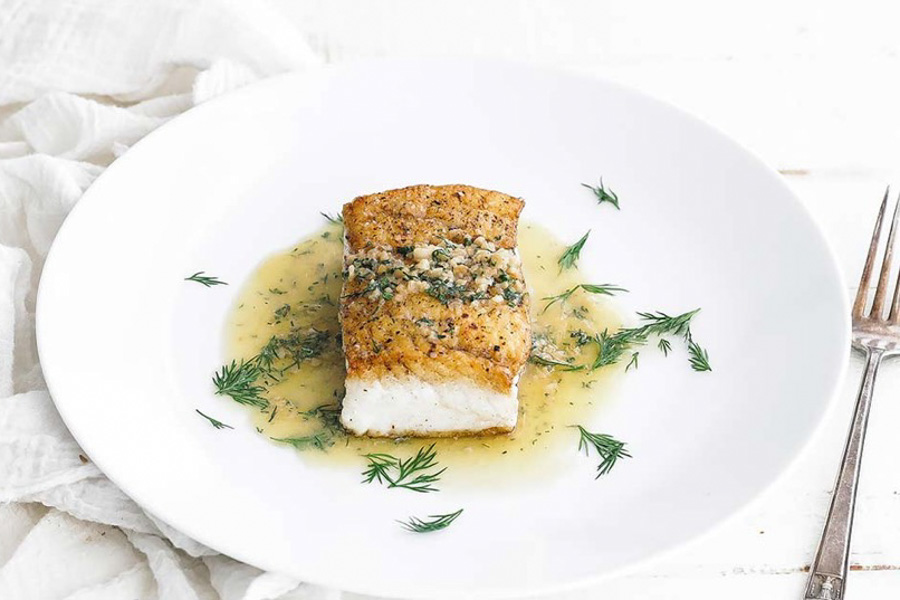 Ingredients
2 8- ounce fresh skinless halibut fillets
2 tablespoons oil
5 tablespoons + 1 teaspoon unsalted butter
½ peeled and small diced shallot
1 finely minced garlic clove
¼ cup white wine
1 tablespoon minced fresh dill
Juice of ½ lemon
Salt and pepper to taste
Preparation
Season the halibut on both sides with salt and pepper.
Add the oil to a large frying pan and heat over high heat until it begins to lightly smoke.
Place in the halibut, turn the heat down to medium-high, add in 1 teaspoon of butter and cook for 3 to 3 ½ minutes per side or until golden brown and cooked throughout. Remove the cooked halibut and set aside.
Add 1 tablespoon of butter to the pan and cook the shallots and garlic over medium heat for 1 to 2 minutes or until very lightly browned.
Deglaze with the white wine and cook until there are about 1 to 2 tablespoons of liquid left.
Turn the heat off completely and let sit for 1 to 2 minutes before adding in 4 tablespoons of cold butter and mixing until the butter is melted, but not broken. See note on helping to re-emulsify the sauce.
Stir in the dill, lemon juice, salt, and pepper, and mix until combined.
Pour the sauce over the fish and garnish with more dill and lemon slices.
Notes
Take care that your pan is not too hot before adding in the cold butter to make the sauce or else the butter will separate, and your sauce will be broken and runny.
Pat the halibut down with paper towels as it will help release it from the pan when ready to flip over.
This recipe is very versatile so just about any fish will work with the lemon dill sauce.
If your butter sauce broke, you can sometimes bring it back with 1 to 2 tablespoons of cold heavy whipping cream. Whisk it in until combined.
Source: Billy Parisi – Pan Seared Halibut with Lemon Dill Butter