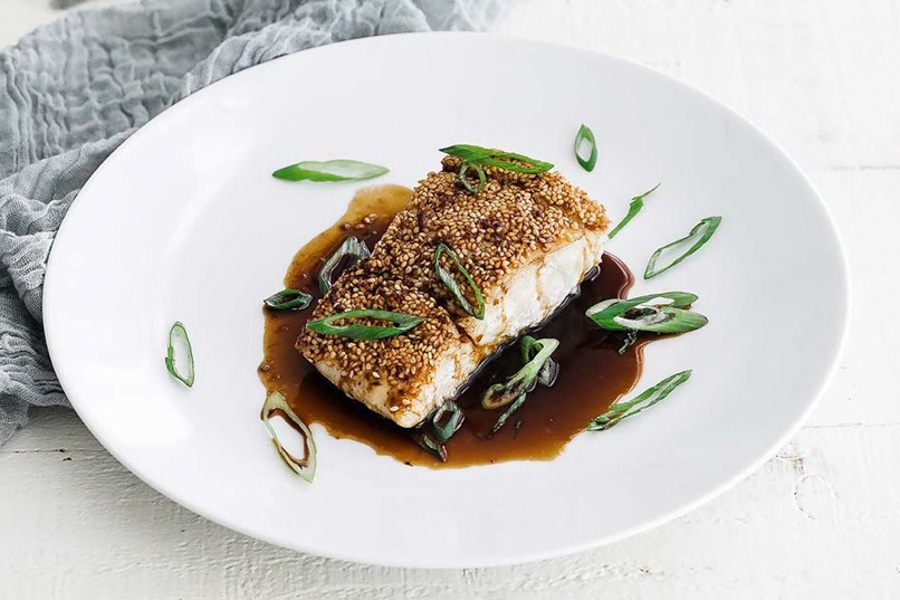 Ingredients
1/3 cup soy sauce
2 teaspoons rice wine vinegar
3 tablespoons honey
1 teaspoon peeled and finely grated fresh ginger
1 finely minced garlic clove
2 8- ounce fresh skinless halibut fillets
2 tablespoons sesame seeds
2 tablespoons sesame oil
1 teaspoon unsalted butter
Sliced green onions for garnish
salt and pepper to taste
Preparation
In a small bowl whisk together the soy sauce, vinegar, honey, ginger, and garlic until combined. Set aside.
Season the halibut on both sides with salt and pepper.
Next, press one side of the halibut fillet down into the sesame seeds to encrust the fish.
Add some oil to a large frying pan and heat over high heat until it begins to lightly smoke.
Place in the halibut, turn the heat down to medium to medium-high, add in some butter and cook for 3 to 3 ½ minutes per side or until golden brown and cooked throughout. Make sure to not burn the sesame seeds. Set aside.
Pour in the sauce and cook over low heat for 1 to 2 minutes or until it has slightly thickened up.
Serve the fish with the sauce and garnish with sliced green onions.
Notes
Pat the halibut down with paper towels as it will help release it from the pan when ready to flip over.
This recipe is very versatile so just about any fish will work with the honey-soy glaze.
If you notice the sesame seeds turning too brown too fast, remove the pan from the heat to cool slightly before returning to the burner and cooking over medium heat only.