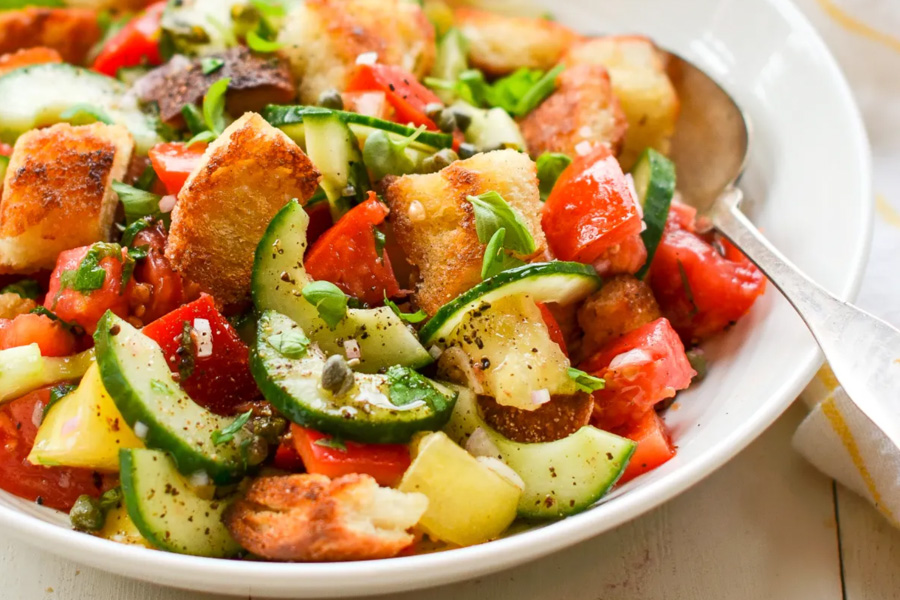 A crispy Italian bread salad with juicy tomatoes, bell peppers and cucumbers.
Ingredients
¾ cup extra virgin olive oil, divided
6 cups rustic Italian bread, cut into 1-in cubes (about ¾ lb)
1 teaspoon salt, divided
1½ pounds tomatoes, cut into 1-in cubes (about 2 large)
2 red, yellow, or orange bell peppers, cut into 1-in cubes
1 small English or hothouse cucumber, seeded and thinly sliced
3 tablespoons capers, drained
3 tablespoons white wine vinegar
1 large clove garlic, minced
3 tablespoons finely minced shallots, from 1 large shallot
¼ teaspoon freshly ground black pepper
⅓ cup fresh chopped basil
Preparation
Heat ¼ cup of the oil in a large skillet over medium heat. Add the bread and ½ teaspoon salt; toss well. Cook, stirring frequently, until the bread is crispy and golden brown, about 10 minutes. Set aside to cool.
In a large bowl, combine the tomatoes, peppers, cucumber, capers, wine vinegar, garlic, shallots, pepper, the remaining ½ teaspoon salt, and the remaining ½ cup oil. Toss well.
Right before serving, add two-thirds of the toasted bread and basil to the salad. Toss to combine, then taste and adjust seasoning, if necessary (I usually add about ¼ tsp more salt). Transfer to a serving bowl and sprinkle the remaining toasted bread cubes over top. Serve immediately so the bread doesn't get soggy.