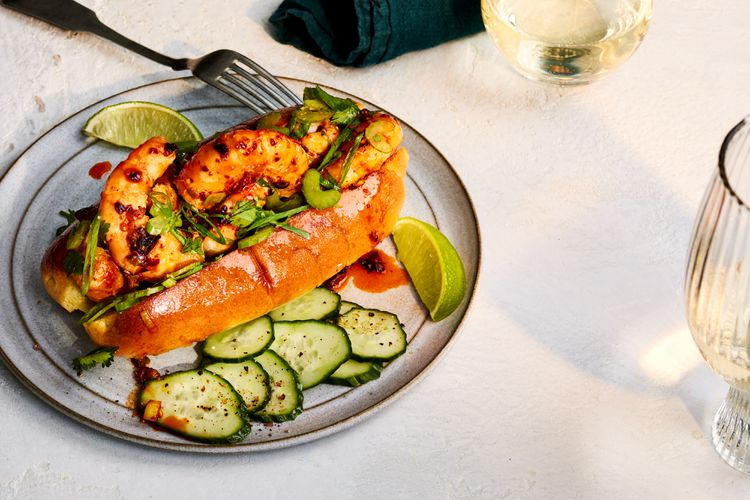 Toasted brioche buns are piled high with succulent shrimp and crisp celery slaw in this riff on a classic shrimp roll. Melted butter, chile crisp, and tangy rice vinegar coat the shrimp in color and flavor. A simple shaved cucumber salad rounds out the plate and offers a cooling finish.
Ingredients
1 small bunch scallions
1 medium celery stalk with leaves, stalk very thinly sliced (about 1/2 cup) and leaves reserved
1/2 cup loosely packed fresh cilantro leaves
2 tablespoons unsalted butter, divided
1 pound peeled and deveined raw jumbo shrimp
1 1/2 teaspoons plus a pinch of kosher salt, divided, plus more to taste
3 1/2 tablespoons spicy chile crisp (such as Lao Gan Ma; see Note)
3 1/2 tablespoons seasoned rice vinegar, divided
1 teaspoon grated lime zest plus 1 1/2 tablespoons fresh lime juice (from 1 lime), divided
1 1/4 teaspoons grated peeled fresh ginger (from 1 [1-inch] piece), divided
1 large (about 14-ounce) English cucumber, very thinly sliced
2 tablespoons extra-virgin olive oil
4 top-split brioche hot dog buns, toasted
Lime wedges, for serving
Preparation
Cut scallions in half crosswise, separating dark green parts from white and light green parts. Slice white and light green parts crosswise; set aside. Slice dark green parts lengthwise on an angle into very thin strips to equal about 1/2 cup; place in a small bowl, and add celery, celery leaves, and cilantro. Set aside.
Heat 1 tablespoon butter in a large nonstick skillet over medium-high until melted and just beginning to brown, 1 to 2 minutes. Add shrimp and 3/4 teaspoon salt; cook, stirring often, until shrimp are pink in spots but still translucent in center, about 2 minutes. Add reserved white and light green parts of scallions, chile crisp, 1 tablespoon rice vinegar, lime zest, 1 tablespoon lime juice, and 1 teaspoon ginger. Cook, stirring occasionally, until shrimp are cooked through and coated with sauce, 1 to 3 minutes. Stir in remaining 1 tablespoon butter until melted.
Toss together celery mixture, 1 1/2 teaspoons rice vinegar, a pinch of salt, remaining 1 1/2 teaspoons lime juice, and remaining 1/4 teaspoon ginger.
Toss together cucumber, oil, remaining 2 tablespoons rice vinegar, and remaining 3/4 teaspoon salt in a medium bowl until combined. Season with salt to taste.
Divide shrimp mixture evenly among 4 buns. Spoon any remaining chile crisp sauce in skillet over shrimp. Top evenly with celery mixture, drizzling any remaining juices over each roll. Serve with cucumber salad and lime wedges.
Source: Liz Mervosh at Food and Wine – Chile Crisp Shrimp Rolls with Cucumber Salad