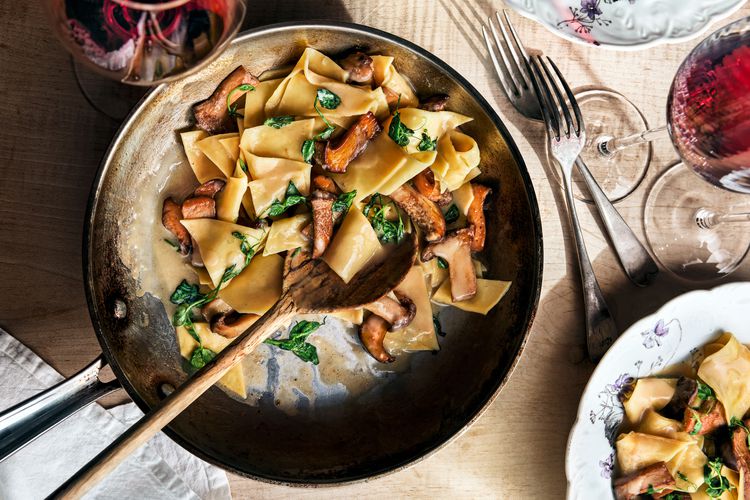 This irregularly shaped pasta is coated in a silky pan sauce that comes together quickly with reserved pasta cooking liquid and Parmesan cheese.
Ingredients
3 tablespoons unsalted butter
3 tablespoons olive oil
6 medium clove garlic cloves, lightly smashed
1 pound fresh porcini, trumpet, or cremini mushrooms (gills removed), cut lengthwise into 1/2-inch-thick slices (about 6 1/2 cups)
1 teaspoon kosher salt
3 tablespoons sherry vinegar (such as Sanchez Romate Reserva)
12 ounces dried maltagliati pasta (see Note), or fresh lasagna sheets, cut or torn into 1- to 1 1/2-inch squares
2 ounces Parmesan cheese, grated (about 1/2 cup), plus shaved Parmesan cheese, for garnish
5 cups lightly packed tender pea tendrils, trimmed and cut into 2-inch pieces
Preparation
Bring a large pot of salted water to a boil over medium-high.
Meanwhile, melt butter with olive oil in a large, high-sided skillet over medium-low. Add smashed garlic, and cook, stirring occasionally, until lightly golden and softened, about 3 minutes. Add mushrooms, and stir to coat with butter mixture; sprinkle with salt. Increase heat to medium; cook, stirring occasionally, until mushrooms are lightly browned, tender, and liquid evaporates slightly, about 6 minutes. Stir in sherry vinegar; cook, stirring often, until mushrooms absorb vinegar, about 2 minutes. Remove from heat, and set aside.
Add pasta to boiling water; cook, stirring occasionally, until al dente, 2 to 3 minutes for fresh pasta or about 6 minutes for dried pasta. Drain, reserving 1 1/2 cups pasta cooking liquid.
Return mushrooms in skillet to heat over medium. Add cooked pasta, grated Parmesan, and 1 cup reserved cooking liquid; cook, stirring constantly, until a silky sauce forms and gently coats pasta, about 2 minutes. If needed, stir in additional reserved cooking liquid until sauce reaches desired consistency. Remove skillet from heat, and fold in pea tendrils until wilted slightly. Garnish with shaved Parmesan.
Source: Jason Barwikowski Food and Wine – Maltagliati with Mushrooms and Pea Tendrils