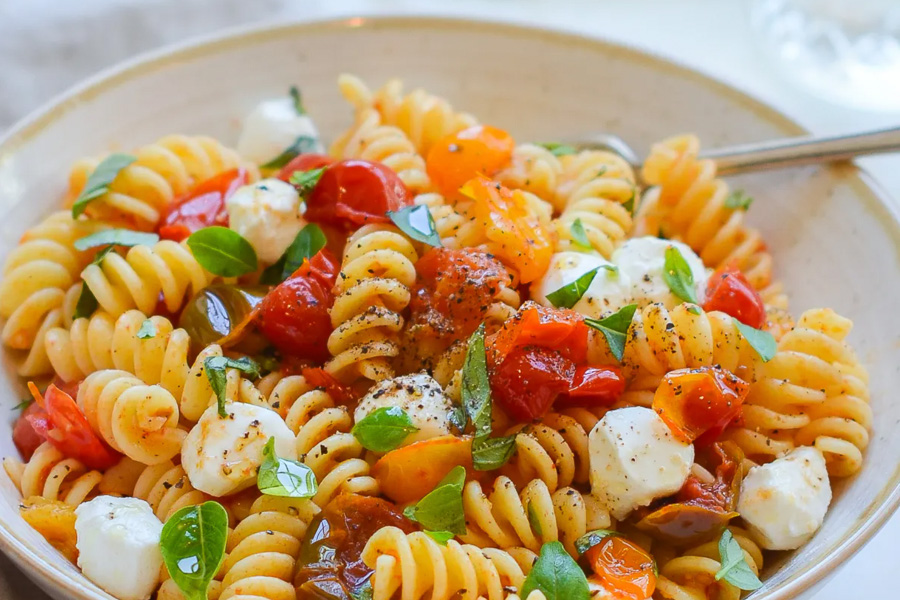 Ingredients
1 pound fusilli (or similar) pasta
⅓ cup extra-virgin olive oil
3 large cloves garlic, minced
4 cups (about 2 pints) cherry tomatoes, halved
1 teaspoon salt
½ teaspoon freshly ground black pepper
½ cup fresh packed basil leaves, roughly chopped or torn
8 oz fresh mozzarella pearls (alternatively, you can use an 8-oz ball of fresh mozzarella, diced)
Preparation
Bring a large pot of salted water to a boil. Add the pasta and cook according to the package directions, until al dente. Drain the pasta, reserving ½ cup of the cooking liquid.
In a large skillet, heat the olive oil over medium heat. Add the garlic and sauté until fragrant, 1 to 2 minutes; do not burn.
Add the tomatoes, salt, and pepper and increase the heat to medium-high. Cook, stirring occasionally, until the tomatoes start to soften and burst, 4 to 5 minutes.
Using a fork, smash the tomatoes into a chunky sauce. Add the drained fusilli to the pan and toss to combine.
Right before serving, toss in the basil and mozzarella pearls. (It's important to do this at the last minute so the cheese doesn't melt too much.)
Taste and adjust seasoning, adding the reserved pasta water little by little if the pasta seems dry. Spoon into bowls and serve.