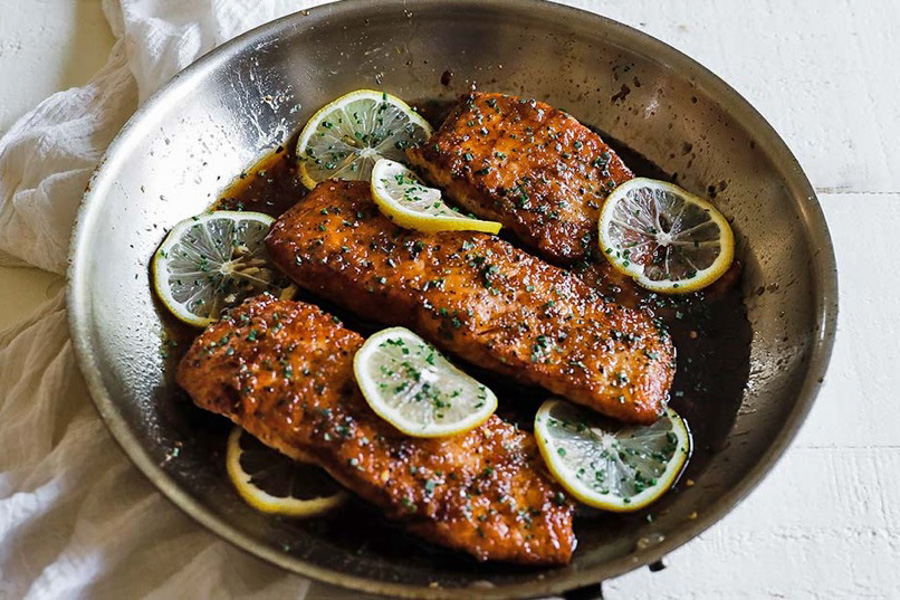 Ingredients
4 8- ounce skin off salmon fillets
2 tablespoons olive oil
2 tablespoons unsalted butter
4 finely minced cloves of garlic
2 tablespoons water
2 tablespoons soy sauce
juice of ½ lemon
¼ cup honey
½ teaspoon crushed red pepper flakes
salt and pepper to taste
Preparation
Season the salmon on both sides with salt and pepper.
Add the olive oil to a large frying pan over high heat and wait a few minutes until it begins to lightly smoke.
Add the salmon into the pan flesh side, not skin removed side, down in the pan.
Place 1 tablespoon of butter in the pan and turn the heat down to medium-high and cook the salmon for 3-4 minutes.
Turn the salmon over and cook for a further 3-4 minutes or until the desired internal temperature is achieved.
Remove the salmon from the pan and set it aside.
Discard any oil if there seems to be too much in the pan. There should be a few tablespoons in it.
Add the garlic to the pan and cook for 1 minute over low to medium heat.
Pour in the water, soy sauce, lemon juice, and honey and cook over medium heat for 2 minutes or until it has slightly thickened.
Finish with pepper flakes and the remaining 1 tablespoon of unsalted butter.
Place the salmon back in the pan and glaze with the sauce in the pan.
Garnish with optional finely sliced fresh chives.
Notes
You can also grill the salmon instead of cooking in a pan over medium to high heat for 3-4 minutes per side and then make the sauce separate in a pan.