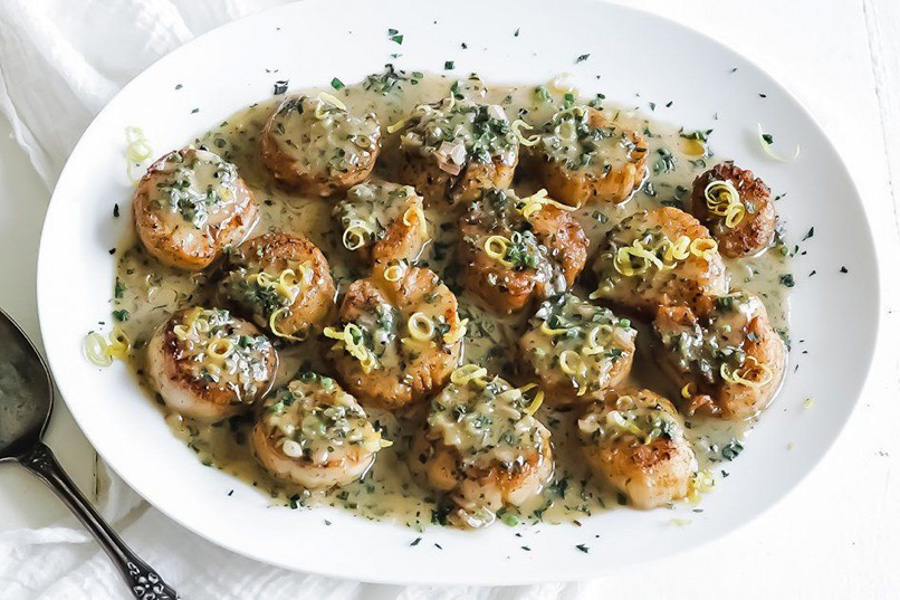 Ingredients
8 ounces softened unsalted butter + 2 tablespoons
½ peeled and finely minced shallot
2 finely minced cloves of garlic
2 tablespoons chopped fresh chives
2 tablespoons chopped fresh thyme
¼ cup chopped fresh parsley
juice and zest of 1 lemon
1 pound U12 sea scallops, foot removed
2 tablespoons oil
1/3 cup white wine
sea salt and fresh cracked pepper to taste
Preparation
In a stand mixer with the paddle attachment whip the together the 2 sticks of butter for 4-6 minutes on medium to high speed until it is light and fluffy.
Next, add in the lemon juice and mix until combined, about 1 minute.
Add in the garlic, shallot, lemon juice, parsley, thyme, chives, and salt and pepper until completely combined. Chill.
Remove the foot of the scallops, pat dry with paper towels, and season the scallops on both sides with salt and pepper.
Heat 2 tablespoons of oil in a sauté pan over high heat until it begins to lightly smoke. Add in the scallops quickly and turn the heat down to medium-high.
Immediately add in the 2 tablespoons of unsalted butter to help brown and season the scallops
Turn the scallops over after 1:30 to 2 minutes or until golden brown on the bottom.
Cook the scallops for a further 30 to 45 seconds or until the desired internal temperature is achieved.
Remove the scallops and deglaze with the white wine and cook until it is almost gone over medium heat, about 2 to 3 minutes.
Remove the pan from the burner and add in 1/4 cup of the herb butter and whisk until melted. Reserve the remaining in the freezer for a later date!
Notes
Also, try serving the scallops with a simple beurre blanc.