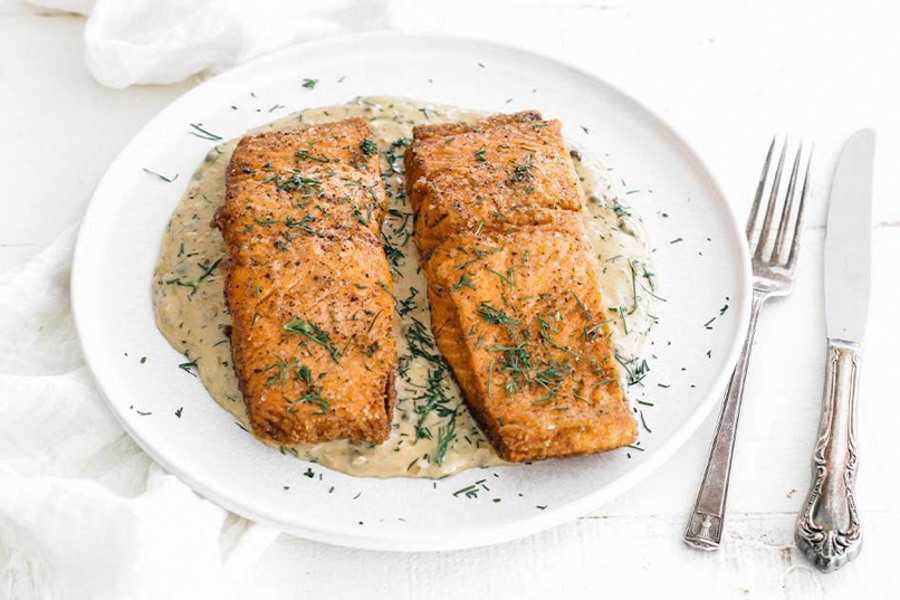 Ingredients
2 8- ounce wild caught salmon fillets
2 tablespoons olive oil
8 tablespoons unsalted butter
1 peeled and small diced shallot
2 finely minced cloves of garlic
juice of ½ lemon
¼ cup chardonnay
1/2 cup of heavy whipping cream
1 tablespoon capers
1 ½ teaspoons fresh chopped dill
sea salt and fresh cracked pepper to taste
Preparation
Season the fish well on both sides with salt and pepper.
Add the olive oil to a large cast iron skillet, sauté, or use a non-stick pan over medium-high heat. Wait until it begins to smoke lightly.
Add in the fish skin side up and pan sear for 2 to 3 minutes or until well browned. Immediately add in 2 tablespoons of butter to help brown and turn the heat down to medium-high heat.
Flip the fish over. Generously baste the fish constantly until it is finished cooking, which takes about 2 to 3 more minutes.
Set the salmon to the side and drain off the cooking oil.
Return to the pan the fish was cooked in and add 2 tablespoons of butter.
Throw in the shallots and garlic and caramelize, which will only take a few minutes since the pan will be so hot.
Deglaze with the fresh lemon juice and cook it until it is au sec or the liquid is almost gone.
Next, deglaze again with the chardonnay wine and cook it until the liquid is almost gone. This is a crucial step for making this lemon butter sauce for salmon.
Pour in the heavy whipping cream and cook it over medium heat until it becomes very thick, like an alfredo sauce. Mix in the remaining butter, capers, and dill until combined.
Adjust the seasonings with salt and pepper. Serve the salmon on top of the sauce.
Notes
You can grill the salmon instead of cooking it over medium to high heat for 3-4 minutes per side and then separate the sauce in a pan.
The sauce is not the traditional way to make a beurre blanc. However, if you ever want your sauce to hold, use heavy cream first. It's a guaranteed solidifier.
Source: Billy Parisi – Pan Seared Salmon with Lemon Butter