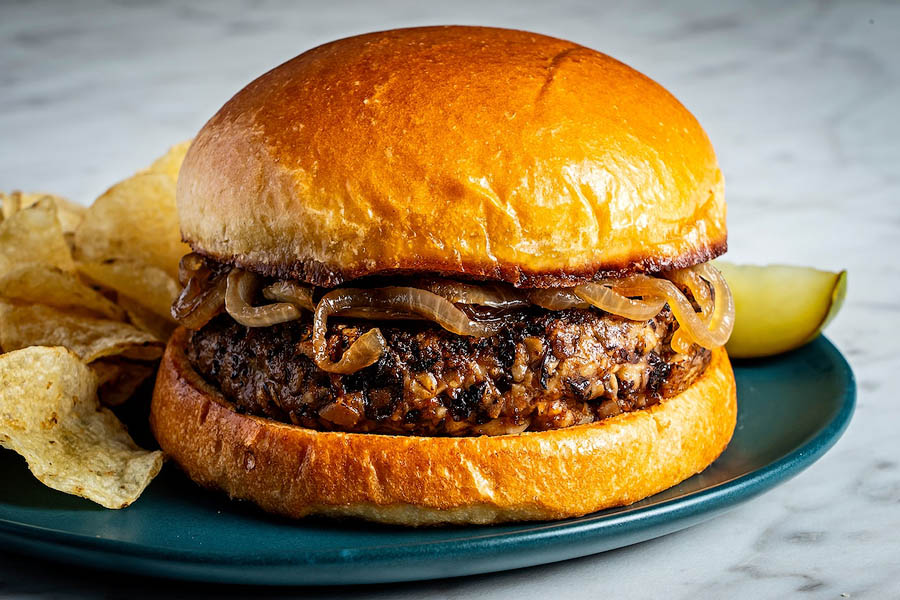 Ingredients
One (15-ounce) can no-salt-added black beans, drained and rinsed
1 (13.25-ounce) can mushrooms (pieces and stems), drained and rinsed
1/2 cup rolled old-fashioned oats
1 tablespoon tamari or soy sauce
1 teaspoon smoked paprika
1/2 teaspoon garlic powder
1/2 teaspoon ground black pepper
1/2 teaspoon fine salt, divided
3 tablespoons vegetable oil, divided
1 medium yellow onion (about 9 ounces), thinly sliced
1 tablespoon balsamic vinegar
Hamburger buns
Toppings such as cheese, lettuce, slices of tomato, pickles, mustard and/or ketchup (optional)
Preparation
In the bowl of a food processor, combine the beans, mushrooms, oats, tamari or soy sauce, paprika, garlic powder, black pepper and 1/4 teaspoon of salt and pulse until the mushrooms are finely chopped and the mixture is evenly combined, 10 to 15 seconds. Form the mixture into 4 patties that are about 3 1/2 inches in diameter, using about 1/2 cup of the mixture for each. Let sit for 10 to 15 minutes while you make the onions.
In a large skillet over medium heat, heat 1 tablespoon of the oil until it shimmers. Add the onions and the remaining 1/4 teaspoon of salt and cook, stirring regularly, until the onion begins to soften and turn translucent, about 10 minutes. Add the vinegar and cook, stirring regularly, until it reduces and coats the onion, about 3 minutes. Transfer to a small bowl.
In the same skillet, add the remaining 2 tablespoons of the oil, increase the heat to medium-high and heat until the oil shimmers. Add the burgers and cook until nicely browned, about 4 minutes per side. Serve on buns, topped with some of the balsamic-glazed onions along with cheese, lettuce, slices of tomato, pickles, mustard and/or ketchup, if desired.
Source: The Washington Post – Mushroom and Black Bean Burgers With Balsamic-Glazed Onions