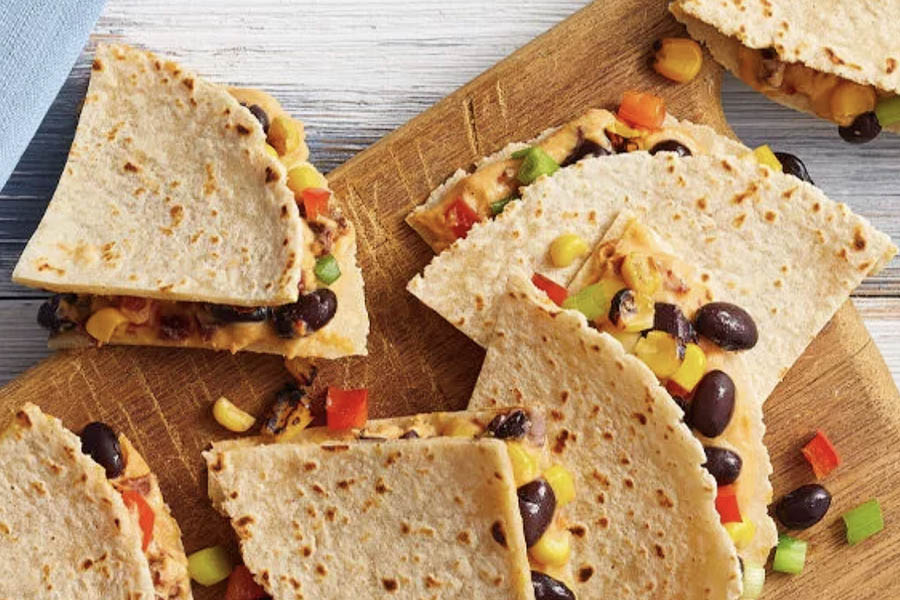 Ingredients
1 8-oz. container oil-free hummus (such as Oasis Zero Fat or Cedar's Fat-Free)
2 chipotle chiles in adobo sauce, finely chopped
1 12-oz. package frozen unseasoned Mexican or Southwest corn blend
1 15-oz. can no-salt-added black beans, rinsed and drained (1½ cups)
½ cup sliced scallions
12 6-inch corn tortillas
1 cup fresh salsa
½ cup chopped fresh mango
Preparation
In a small bowl stir together hummus and chipotle chiles; mix well. In a large skillet cook frozen vegetables over medium 5 to 6 minutes or until crisp-tender, stirring occasionally and adding water, 1 to 2 tablespoons at a time, as needed to prevent sticking. Stir in black beans and scallions; cook 1 to 2 minutes or until heated through.
Spread hummus on six tortillas. Top with vegetable mixture and remaining tortillas, pressing lightly.
Heat a nonstick griddle over medium. Cook quesadillas, in batches, 4 to 5 minutes or until browned, turning once. Keep warm on a baking sheet in a 200°F oven while cooking remaining quesadillas. Cut into wedges.
Stir together salsa and mango. Serve with quesadillas.