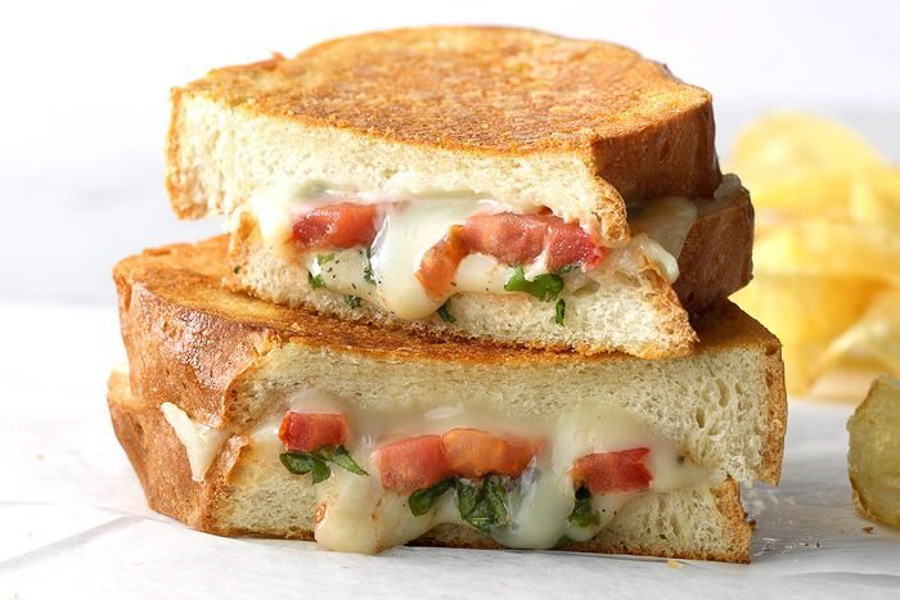 Ingredients
8 slices Italian bread (3/4 inch thick)
8 slices part-skim mozzarella cheese
2 large plum tomatoes, sliced
2 tablespoons minced fresh basil
2 teaspoons balsamic vinegar
Salt and pepper to taste
1/4 cup olive oil
3 tablespoons grated Parmesan cheese
1/4 teaspoon garlic powder
Preparation
Brush the outsides of each sandwich with butter.
In a small bowl, combine the oil, Parmesan cheese and garlic powder; brush over the insides of each sandwich.
On four slices of bread, layer mozzarella cheese and tomatoes; sprinkle with the basil, vinegar, salt and pepper. Top with remaining bread. 
In a skillet over medium heat, toast sandwiches until golden brown on both sides and cheese is melted.
Source: Taste of Home Tomato Basil Grilled Cheese