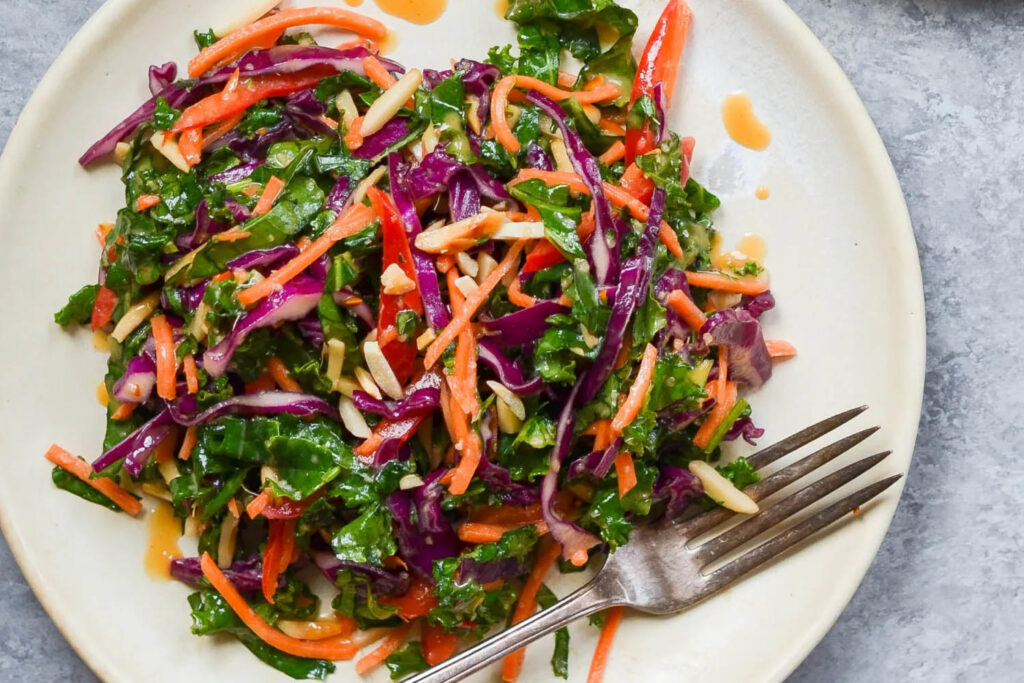 Ingredients
Salad

4 cups chopped curly kale, thick stems removed (patted dry)
3 cups shredded red cabbage
2 cups shredded carrots
1 red bell pepper, sliced into bite-sized pieces
¾ cup slivered almonds
½ cup chopped fresh cilantro

Dressing

3 tablespoons creamy peanut butter
3 tablespoons unseasoned rice vinegar
1 tablespoon fresh lime juice, from one lime
3 tablespoons vegetable oil
1 tablespoon soy sauce
3 tablespoons honey
1 tablespoon sugar
1 large clove garlic, roughly chopped
1-inch square piece fresh ginger, peeled and roughly chopped
¾ teaspoon salt
1 teaspoon sriracha
1 teaspoon toasted sesame oil
Preparation
Preheat the oven to 350°F. Line a baking sheet with parchment paper or aluminum foil.
Bake the almonds until lightly golden and fragrant, 5-10 minutes. (Keep a close eye on them; nuts burn quickly.) Transfer the nuts to a small plate to cool.
Meanwhile, combine all of the ingredients for the dressing in a food processor or blender; process until smooth and creamy.
Combine the ingredients for the salad in a large mixing bowl. Pour the dressing over the salad and toss well. Let the salad sit at room temperature for 15 minutes to allow the kale to soften. Toss again, and then taste and adjust seasoning, if necessary.
Source: Once Upon a Chef – Kale Salad with Ginger Peanut Dressing