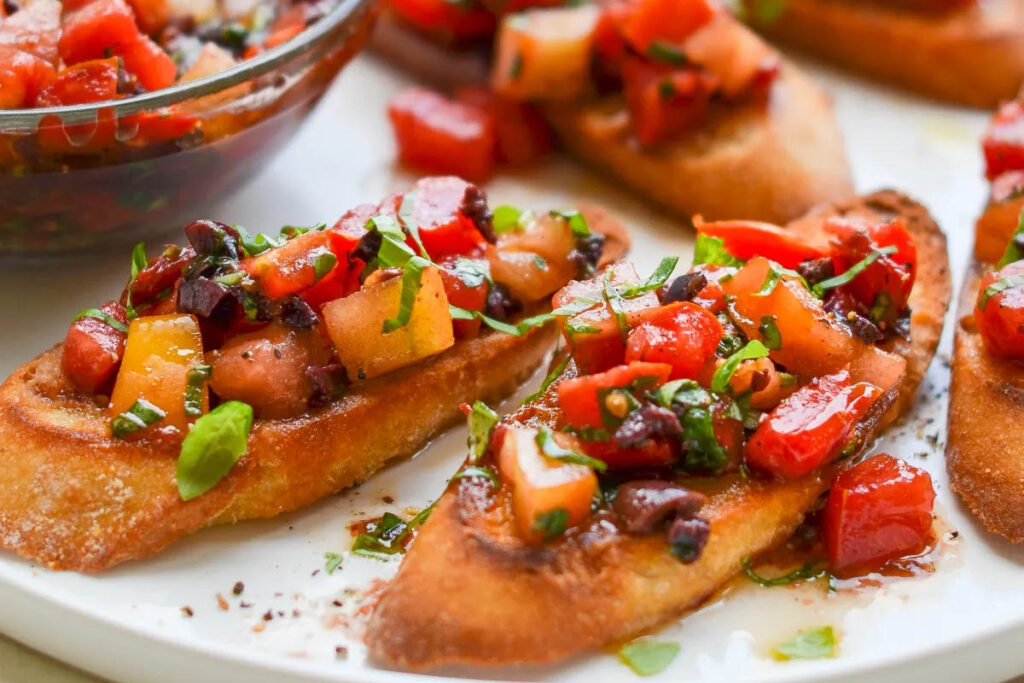 Ingredients
1½ lbs ripe tomatoes (preferably heirloom), cored and diced (3 to 4 tomatoes)
¼ cup pitted Kalamata olives, finely chopped
2 teaspoons balsamic vinegar
¼ cup finely chopped fresh basil, plus more for serving
¼ teaspoon salt
A few grinds freshly ground black pepper
½ cup extra-virgin olive oil, divided
1 good quality baguette, cut into scant ½-in-thick slices on the bias
1 clove garlic, halved lengthwise
Preparation
Preheat the oven to 425°F and set a rack in the middle position.
In a medium bowl, combine the tomatoes, olives, balsamic vinegar, basil, salt, pepper, and ⅓ cup of the oil. Toss to combine, then taste and adjust seasoning, if necessary. (If the tomatoes aren't as sweet as you'd like, add ⅛ teaspoon sugar.)
Arrange the bread slices on a baking sheet. Brush both sides of the bread with the remaining 3 tablespoons of oil. Bake for about 10 minutes, until crisp and golden on the bottom.
Using tongs, flip the bread slices so the golden side is facing up. Rub the top side of each slice with the cut side of the garlic, going back and forth once (or twice, if you like your bruschetta extra garlicky). Transfer the toasted bread to a serving platter and top each slice with a spoonful of the tomato mixture. Sprinkle the bruschetta with more basil. Serve within 10 minutes so that the bread stays crisp.
Make-Ahead Instructions: The tomato mixture can be prepared up to 3 hours ahead of time and stored in a covered container in the refrigerator. Taste and adjust seasoning before topping the toasted bread.
Source: Once Upon a Chef – Bruschetta