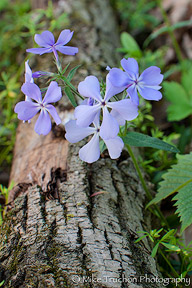 Woodland flowers seem to bring life back to the world after a long, cold, and sometimes drab winter. Their subtle beauty in a rough and rugged environment make these flowers a rewarding challenge to photograph. I recently shared many of my tips and techniques in the Shutterstock Blog article 6 Photographers Share Their Secrets for Gorgeous Flower Photos.

The most important advice that I can give anyone who photographs (or just enjoys being) in a natural environment is to leave the area as untouched and pristine as when you arrived. Never leave evidence of human intrusion, this will help keep the environment healthy and thriving for many years to come.
The wildflowers pictured above are woodland phlox that were sprouting over a fallen tree. I noticed these flower as I was walking on a forest trail. To the left of the log (and out of the photograph) was a batch of poison ivy that I carefully avoided. As I stated previously, their are may challenges photographing wildflowers but the results can be extremely rewarding.