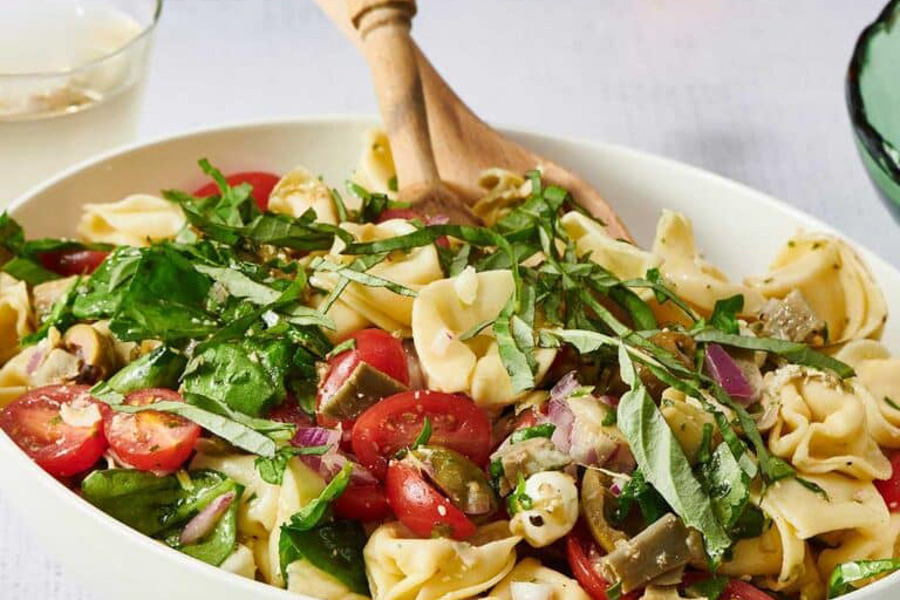 Ingredients
Salad
1 (16- to 20-ounce) package refrigerated tortellini (any type will work)
1 pint cherry or grape tomatoes, halved
8 ounces mini mozzarella balls, halved, quartered, or cubed if large
1 cup roughly chopped baby spinach
1 (15-ounce can) artichoke hearts, roughly sliced or chopped
½ cup olives, any color, any type, drained and halved
½ cup diced red onion
Dressing
3 tablespoons basil pesto, store-bought or homemade
3 tablespoons olive oil
2 tablespoons white wine vinegar
Kosher salt and freshly ground pepper to taste
2 tablespoons finely grated Parmesan cheese (optional)
¼ cup torn or chiffonaded basil leaves
Preparation
Cook the tortellini according to package instructions. Drain, rinse quickly with cool water, and immediately toss with 2 tablespoons olive oil and spread out on a rimmed baking sheet to cool to room temperature.
Meanwhile, combine the tomatoes, mozzarella, spinach, artichoke hearts, olives and onion in a large serving bowl.
Make the dressing: In a small container or bowl, combine the pesto, 3 tablespoons olive oil, vinegar, salt and pepper, and the Parmesan if using.
Add the cooled tortellini to the bowl, drizzle over the dressing and toss to combine. Sprinkle the basil over it and serve.
Notes
Substitute in baby kale for the spinach
Add in bite-sized pieces of other vegetables such as grilled, steamed, or roasted broccoli, cauliflower, or asparagus.