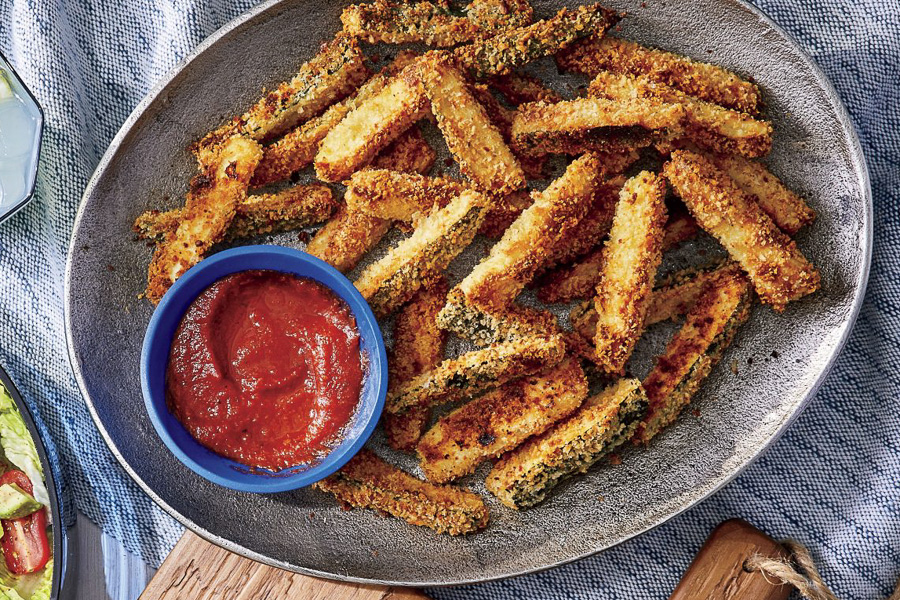 Ingredients
1 cup panko breadcrumbs
3 ounces grated Parmigiano-Reggiano cheese (about 3/4 cup)
1 teaspoon kosher salt, divided
1/4 teaspoon black pepper
1/4 teaspoon garlic powder
1/2 cup all-purpose flour
2 large eggs
3 tablespoons whole milk
4 small zucchini (about 1 1/2 lb. total)
Jarred marinara sauce, warmed, for serving
Preparation
Stir together breadcrumbs, grated Parmigiano-Reggiano, ½ teaspoon kosher salt, black pepper, and garlic powder in a shallow dish.
Stir together flour and remaining 1/2 teaspoon kosher salt in a separate shallow dish.
Whisk together eggs and milk in a third shallow dish.
Cut zucchini into 3- to 4-inch x 1/2-inch sticks. Working in batches, dredge sticks in flour mixture, dip in egg mixture, and dredge in panko mixture, pressing to coat.
Arrange sticks in an even layer on a generously greased (with cooking spray) wire rack set on a baking sheet. Bake at 425°F until lightly browned and tender, about 25 minutes. Serve with warmed marinara sauce.