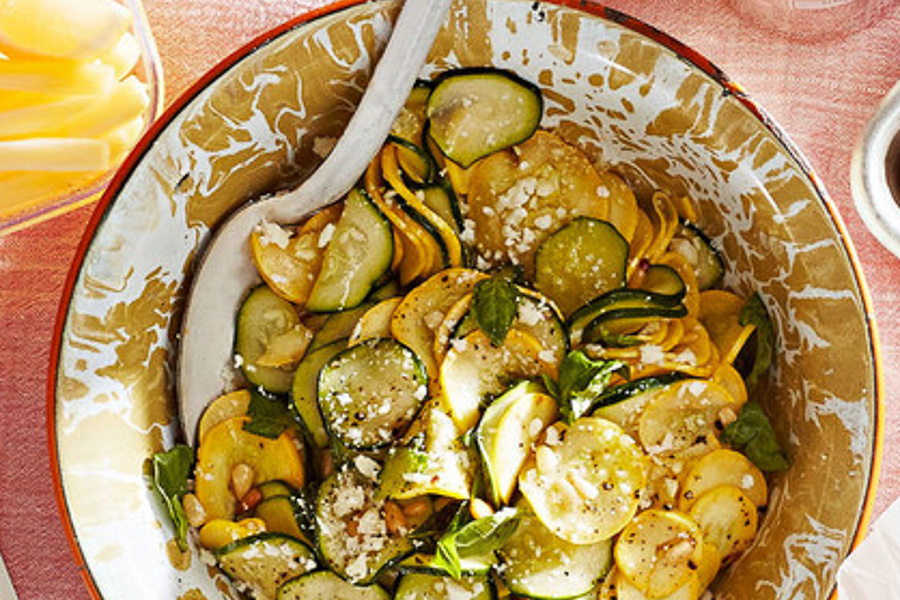 Ingredients
2 zucchini (1 pound total), cut into thin slices
2 small yellow squashes (1 pound total), cut into thin slices
Kosher salt and freshly ground pepper
1/4 cup extra-virgin olive oil
2 tablespoons fresh lemon juice
1/2 teaspoon Dijon mustard
1/2 teaspoon honey
1/4 cup pine nuts, toasted
1 ounce Pecorino Romano, coarsely grated (1/4 cup)
1/4 cup fresh basil leaves, torn if large
Preparation
Generously sprinkle zucchini and squash slices with salt; let stand in a colander 30 minutes. Rinse and pat dry, then transfer to a large bowl.
Whisk together oil, lemon juice, Dijon, and honey. Drizzle mixture over slices.
Add pine nuts, cheese, and basil; toss to coat. Season with salt and pepper.
Serve immediately, or let stand at room temperature up to 2 hours.